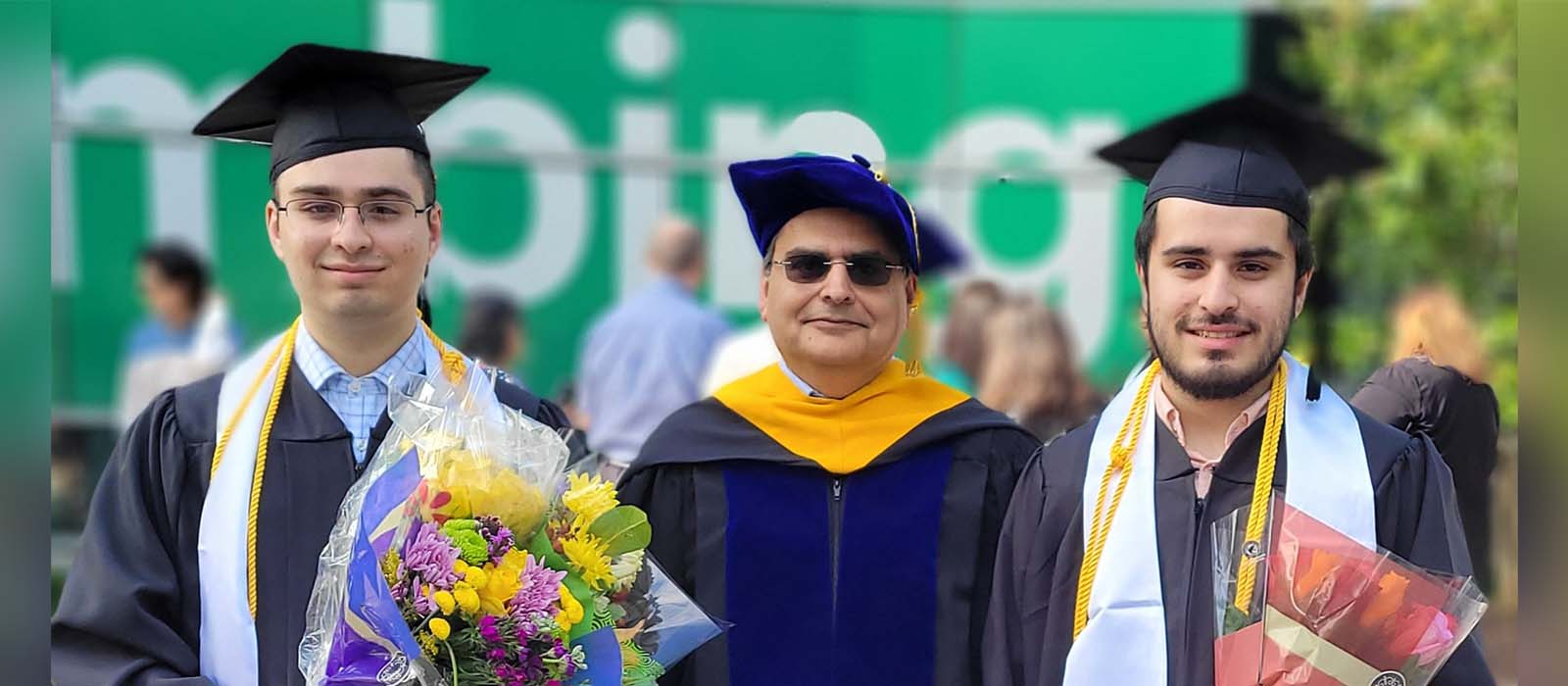 Brothers Zyad Khan and Ahad Khan, graduates of Carroll Community College, both accelerated their education paths through the College's dual enrollment program with Westminster High School. With the encouragement of their father, Dr. Raza Khan, Chair of Carroll's Science Division and Director of its STEM Scholars program, Zyad and Ahad have excelled in their academic pursuits, demonstrating that working harder earlier reaps rewards faster.
Zyad Khan, 16, currently a junior at Westminster High School, graduated from Carroll last May with an Associate's degree. He was among the eight high school students who had received their Associate's degree or credit certificate from the College in 2022. He plans to earn his second Associate of Applied Science in Cybersecurity this December and a third in Computer Information Systems next May before he graduates high school in June 2023. Zyad is also part of the prestigious STEM Scholars honors program at Carroll.
The fact that my first official graduation ceremony was a college graduation is something I still have to wrap my head around.
Ahad Khan, 19, graduated from Westminster High School in 2021 and one month later completed the required courses to earn an Associate's degree from Carroll Community College. He is now taking advantage of Carroll's transfer agreement with Stevenson University, where he is pursuing Bachelor's and Master's degrees in Criminal Justice and Crime Scene Investigation.
Dual Enrollment: A Wise Choice
"Zyad and Ahad Khan are exceptional examples of the many local students who over the years have made a wise choice to complete college requirements and high school graduation requirements simultaneously," said Dr. James D. Ball, President of Carroll Community College.
Are you a Carroll student or alumni?
"Dual enrollment gives high school students the opportunity to get out in front of their peers and validate they are on the right career path," continued Dr. Ball, "as well as reduce the overall cost of completing requirements needed for advanced degrees."
"My proudest achievement was graduating with a General Arts and Science Associate's degree at 16 years old and not even in my senior year of high school," Zyad said. "The fact that my first official graduation ceremony was a college graduation is something I still have to wrap my head around."
Success Beyond the Classroom
In addition to his studies, Zyad presently works part time as an IT technician at InfoPathways, a technology company providing strategic planning, IT management and consulting services. He also serves in a leadership role as Communications Officer for the Muslim Student Association at Carroll.
At Stevenson, Ahad serves as President of the Criminal Justice Association, Commuter Representative for the Student Government Association and Treasurer of the Muslim Student Association. He was also selected for the Stevenson University Mock Trial team and has secured a summer internship with the Carroll County Circuit Court in Westminster.
"I am so proud of my sons and their achievements so far in school and in life," said Dr. Khan. "I am so grateful to the faculty and staff members of Carroll Community College who have supported them and continue to do so in their journeys."
Interested in Dual Enrollment?
Take college classes while still in high school.