Cybersecurity, A.A.S.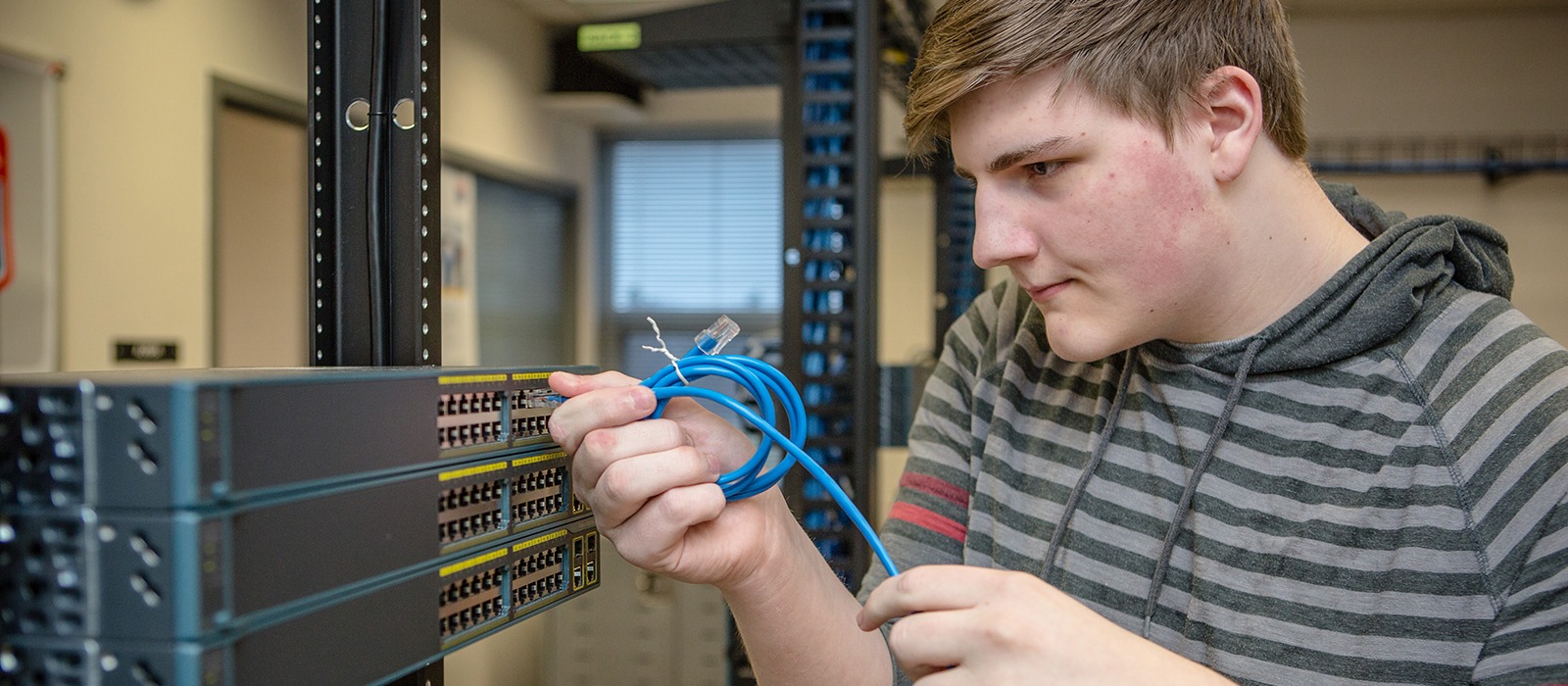 At a Glance
Carroll's Associate degree in Cybersecurity program will prepare you for a rewarding career in cybersecurity, computer network security and administration, computer support and related in-demand fields. 
Program Length
Two Years, or 4 15-credit Semesters
Helpful Resources
About the Program
Due to the increasing occurrence of cybersecurity breaches and society's dependence on technology, nearly every organization, agency and business has a need for cybersecurity professionals or services.
Carroll's Associate degree in Cybersecurity program provides the comprehensive training to equip you with the professional-level experience sought by employers in this rapidly evolving and growing field.
Why Carroll for your AAS degree in Cybersecurity:
Hands-on training
Gain valuable real-world skills via intensive activities in our state-of-the-art cybersecurity lab. 

 

Career-focused program
Designed in coordination with cybersecurity leaders, our program provides you with the knowledge and skills most desired by employers.

 

Career navigation services
Work with Carroll's Cyber Technology Navigator to locate internship and career opportunities, as well as develop your résumé and interviewing skills.
Advisory Board
Our curriculum is designed and continuously reviewed by an advisory board of industry experts and business leaders, ensuring the program meets all current skill and knowledge requirements. You can visit our Advisory Boards page to see the list of Cybersecurity Advisory Board members, as well as advisory board members for our other programs.
Curriculum
Loading...
Transfers & Careers
Discover Your Passion
Find out what your interests are and how they relate to the world of work.
Transfer
Carroll has transfer agreements with virtually every public college and university in Maryland, as well as many other schools throughout the state and across the country.
Learn more about transferring your courses to a different institution or explore Transfer Agreements by Area of Study.
Career
Now is a great time to train at Carroll to become a cybersecurity specialist!
According to the U.S. Bureau of Labor Statistics, career options in the cybersecurity field are excellent, with expected job growth of 36.5% through 2022, and a median annual wage for Information Security Analysts of $90,120. Additionally, the Maryland/D.C./Virginia region is ranked #1 nationally for cybersecurity job opportunities. (Source: Burning Glass Technologies)
Wide range of employers:
Federal, State and local government agencies
Private employers in all industry sectors
Cybersecurity and IT-specific organizations and employers
Consultation services
Faculty
Carroll's faculty are scholars, researchers and distinguished leaders, selected based on their industry experience, academic excellence and passion for teaching. They possess a wealth of skills and knowledge to share with you throughout your pursuit of a Cybersecurity degree.
News