Computer Graphics, A.A.S.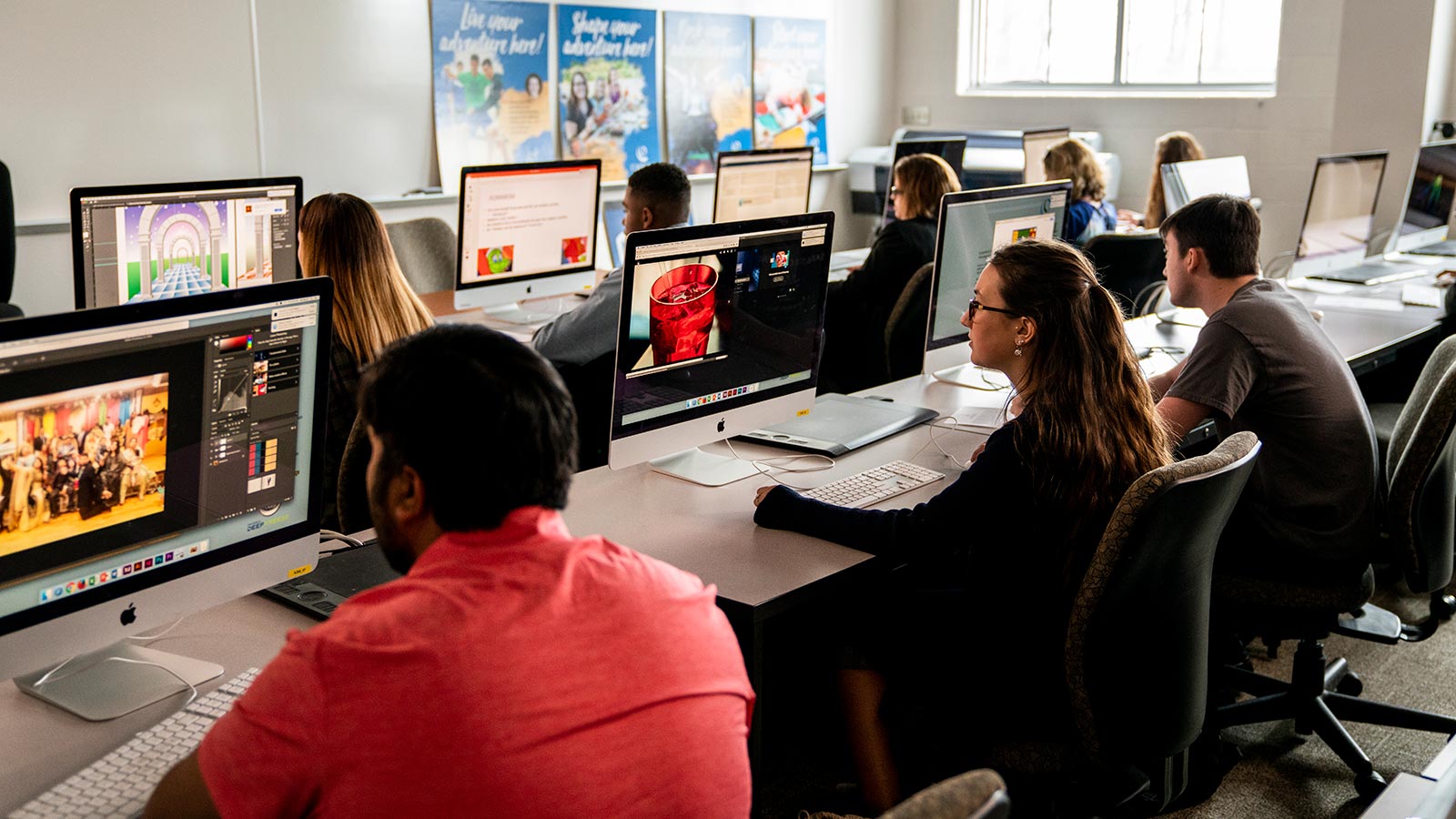 At a Glance
Carroll's Associate degree in Computer Graphics program equips graduates with both the technical and creative skills essential to qualify for a wide range of graphic design jobs or to transfer to a 4-year bachelor's program.
Program Length;
Two years, or four 15-credit terms
Helpful Resources
About the Program
A graphic designer uses images, typography, layouts and color to meet their client's design and marketing objectives, combining creativity and computer competencies with the understanding of technical specifications while also working within budget limitations.
In Carroll's Associate degree in Computer Graphics program, we provide students with real-world clients, simulated design projects and other opportunities to learn the latest design principles, techniques and processes. Graduates will become critical thinkers and effective visual communicators, as well as learn to conceptualize and synthesize information.
Why Carroll for your AAS degree in Computer Graphics:
Career-focused program teaches you the latest design techniques using industry-standard software.
Work closely with industry professionals and expert instructors.
Small class sizes offer more individualized attention.
Prepares you to be highly competitive at 4-year transfer institutions.
Our Computer Graphics students have won many awards for their work while in the program. View some of these high-achieving students here.
Advisory Board
Our curriculum is designed and continuously reviewed by an advisory board of industry experts and business leaders, ensuring the program meets all current skill and knowledge requirements. You can visit our Advisory Boards page to see the list of Computer Graphics Advisory Board members, as well as advisory board members for our other programs.
Curriculum
Loading...
Transfers & Careers
Discover Your Passion
Find out what your interests are and how they relate to the world of work.
Transfer
Carroll has transfer agreements with virtually every public college and university in Maryland, as well as many other schools throughout the state and across the country.
Learn more about transferring your courses to a different institution or explore Transfer Agreements by Area of Study.
Career
Carroll's Computer Graphics program gives students the skills they need for a variety of entry-level positions within an ever-expanding industry.
Graduates of our program can go on to work in:
Design studios
Printing companies
Advertising agencies
Film & television studios
Web development companies
Interactive multimedia studios
In-house corporate art departments
And more
Graphic designers are expected to have job growth of 24-26% between now and 2024, according to the U.S. Bureau of Labor Statistics. In addition, graphic designers who can also do web programming and other types of mobile design are expected to be in higher demand over the next 5 to 10 years. Those who work with 3-D graphics and have skills using animation software are expected to have a better than average job growth through 2024.
"My experience with the Computer Graphics program at Carroll has been full of challenges, great experiences and even greater rewards. Thanks to the support of the faculty while building my portfolio, I got my first real web design job before I even finished my degree!"
Faculty
Carroll's faculty are scholars, researchers and distinguished leaders, selected based on their industry experience, academic excellence and passion for teaching. They possess a wealth of skills and knowledge to share with you throughout your pursuit of a Computer Graphics degree.
News