Electrical Engineering, A.S.E.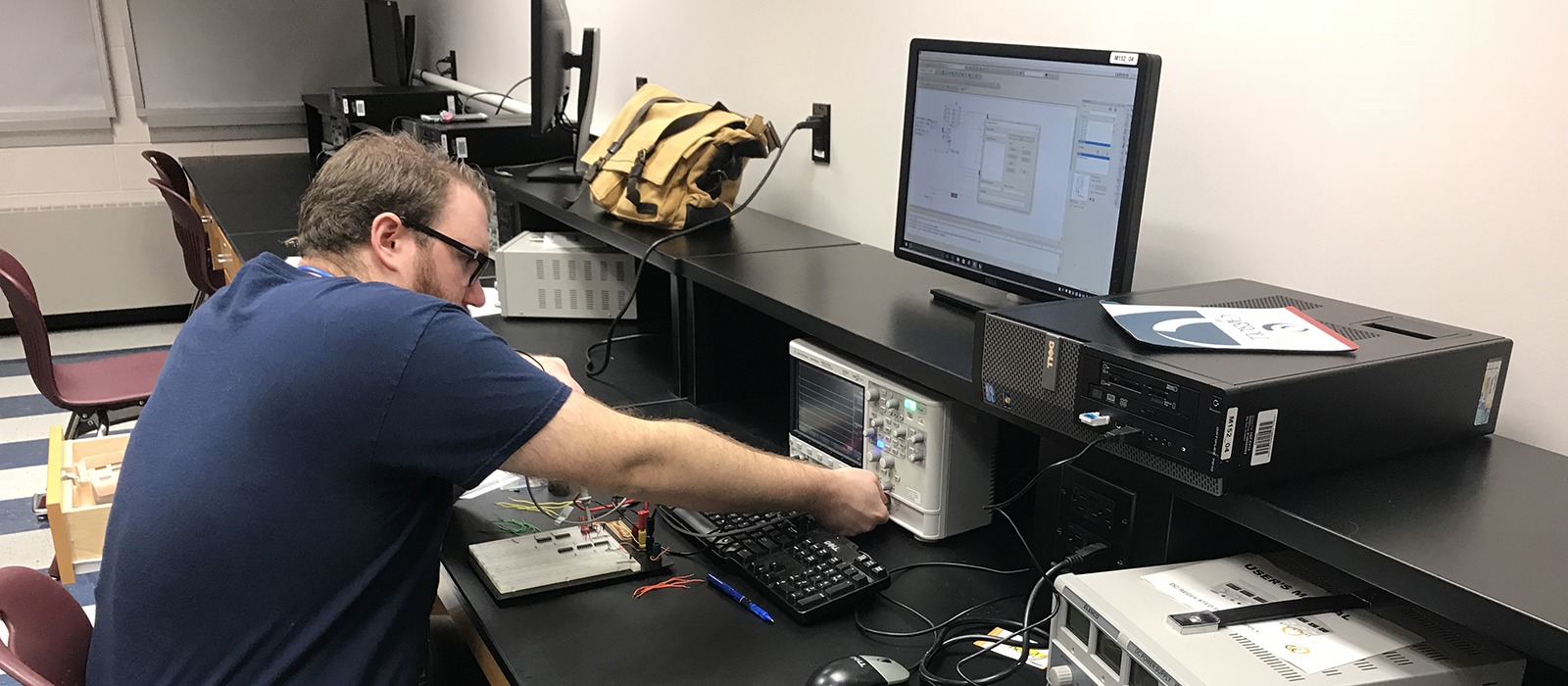 At a Glance
Carroll's A.S.E. in Electrical Engineering degree program expertly prepares students for a seamless transfer to a participating Maryland state or private college to complete a Bachelor's degree in Electrical Engineering.
Helpful Resources
About the Program
Engineers develop and design solutions to problems through the application of mathematics and science. Electrical engineering deals with electricity, electromagnetism and electronics. It also covers power, control systems, telecommunications and signal processing.
Carroll's A.S.E. in Electrical Engineering degree program is accredited by the Maryland Higher Education Commission. Our higher education partners include the Maryland Association of Community Colleges, Maryland Independent College and University Association, Maryland Higher Education Commission, Morgan State University and the University System of Maryland.
Why Carroll for Your A.S.E. in Electrical Engineering:
Graduates are prepared for junior-level work at a transfer institution.
Alternative path to a B.S. in Engineering is more accessible (cost, location, schedule).
Small classes promote rapport and connection between students and faculty.
The A.S.E. is a Maryland statewide articulation agreement based on outcomes, not courses. Each A.S.E., including ours, was developed around a set of critical objectives that all students must meet in the first two years of an engineering program.
STEM Scholars
Carroll's STEM Scholars honors program is designed for motivated high school and college students who want to pursue opportunities in Science, Technology, Engineering or Mathematics and transfer to a 4-year institution after completion of their Associate degree at Carroll Community College. Apply to become a STEM Scholar.
Advisory Board
Our curriculum is designed and continuously reviewed by an advisory board of industry experts and business leaders, ensuring the program meets all current skill and knowledge requirements. You can visit our Advisory Boards page to see the list of Electrical Engineering Advisory Board members, as well as advisory board members for our other programs.
Curriculum
Loading...
Transfers & Careers
Discover Your Passion
Find out what your interests are and how they relate to the world of work.
Transfer
Carroll's Associate of Science in Electrical Engineering degree provides the opportunity for a seamless transfer to the following Maryland state and private colleges for an Engineering major: Capitol College, Frostburg State University, The Johns Hopkins University, Loyola University Maryland, Morgan State University, University of Maryland Eastern Shore and University of Maryland College Park.
Upon student acceptance by a partnering 4-year institution, credits earned for the A.S. in Engineering will transfer as a block in the same field (e.g., EE to EE), without review of individual courses, and the transferring student will enter the receiving institution as a junior.
The University of Maryland College Park now offers Embedded System and Internet of Things (ESIOT) program, held on the Shady Grove campus, for Electrical and Computer Engineering majors. For more information, visit shadygrove.ece.umd.edu.
Learn more about transferring your courses to a different institution or explore Transfer Agreements by Area of Study.
Career
Electrical engineers design, develop and test new electrical equipment for a broad range of technologies, from household appliances, construction lighting and wiring, telecommunication systems, power stations and satellite communications.
According to the U.S. Bureau of Labor Statistics, graduates with a B.S. in Electrical Engineering earn starting salaries around $60,000.
Faculty
Carroll's faculty are scholars, researchers and distinguished leaders, selected based on their industry experience, academic excellence and passion for teaching. They possess a wealth of skills and knowledge to share with you throughout your pursuit of an Electrical Engineering degree.