Music, A.F.A.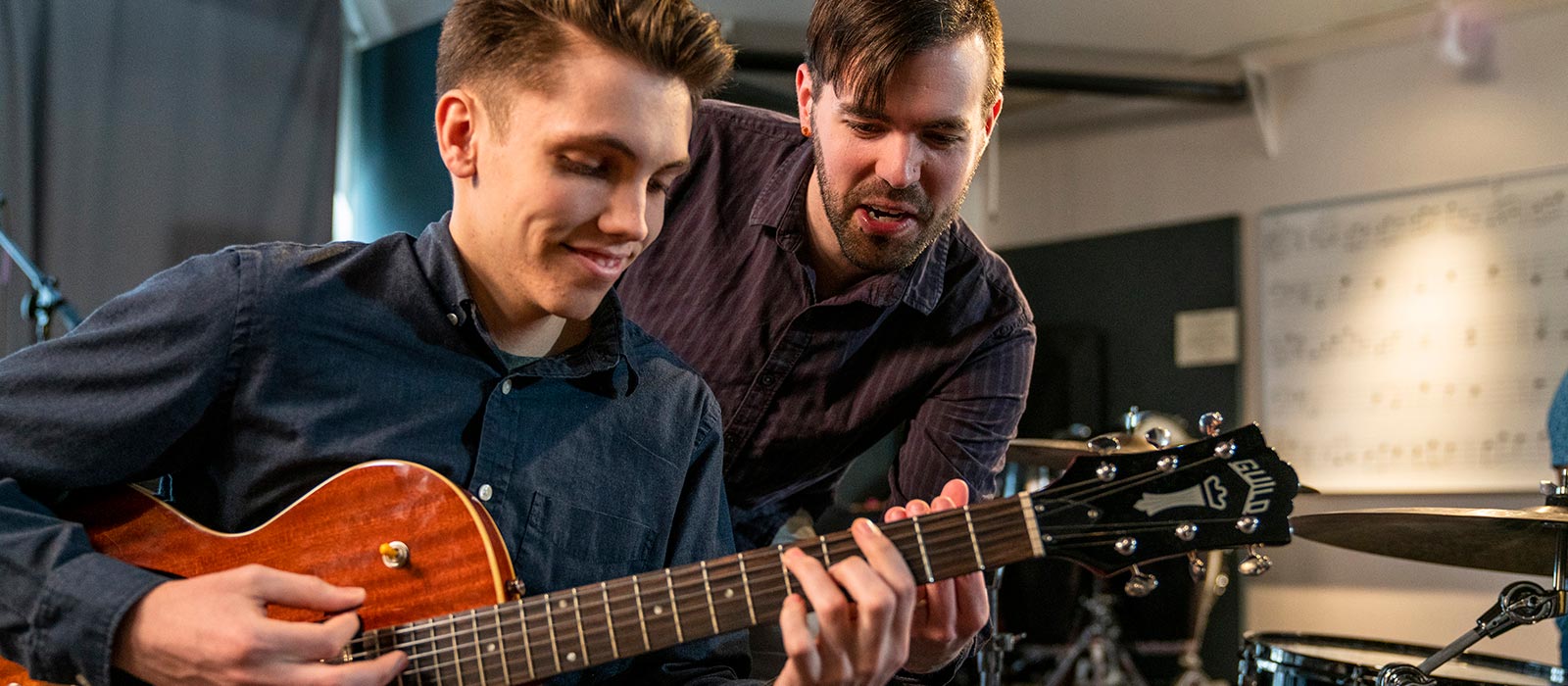 At a Glance
Carroll's Associate of Fine Arts in Music degree program provides students with knowledge and skills related to the field of music and prepares students for transfer to a Bachelor's program in Music.
Program Length:
Two years, or four 15-credit terms
Helpful Resources
About the Program
Our Associate of Fine Arts in Music degree program is designed to equip graduates, regardless of their instrument or desired concentration, with both the musical and theoretical skills essential for transfer into baccalaureate Music programs at 4-year colleges and universities.
Students are provided with a variety of solo and ensemble performance opportunities, theoretical and historical studies, and one-on-one applied studies with faculty who are experts in their field. Graduates of the program will become critical thinkers and advanced performers, and will have learned to critique musical performances and compositions.
Why Carroll for your AFA in Music:
Program vetted by an advisory committee of professionals from the fields of music education, performance and business.
Learn from highly qualified faculty members who are active teachers and performers. Many of our faculty hold a Master's degree or higher in musical disciplines.
Take advantage of solo and ensemble opportunities in a variety of genres ranging from Classical, Jazz, Rock, Pop and more.
Advisory Board
Our curriculum is designed and continuously reviewed by an advisory board of industry experts and business leaders, ensuring the program meets all current skill and knowledge requirements. You can visit our Advisory Boards page to see the list of Music Advisory Board members, as well as advisory board members for our other programs.
Explore Our Spaces
Keyboard Lab – T409

More spaces coming soon.
Curriculum
Loading...
Transfers & Careers
Discover Your Passion
Find out what your interests are and how they relate to the world of work.
Transfer
Our Music program graduates who have remained in-state most commonly transfer to Music programs at Towson University, McDaniel College, University of Maryland and UMBC.
Carroll has transfer agreements with virtually every public college and university in Maryland, as well as many other schools throughout the state and across the country.
Learn more about transferring your courses to a different institution or explore Transfer Agreements by Area of Study.
Career
While the field of Music boasts a plethora of different job opportunities, the majority of our graduates go on to work in the areas of music education and/or performance.
Below is a comprehensive list of careers within the Music field:
Arts Administration: Administrative Assistant; Executive Director; Public Relations
Audio Technology: Audio Developer; Recording Engineer; Sound Designer
Business: Instrument Maker; Piano Tuner; Repair Technician
Concert Industry: Booking Agent; Concert Promoter; Sound Technician; Stage Manager; Tour Coordinator; Tour Publicist
Music Therapy: Hospital; PreK-12 School Setting; Nursing Home; Private Practice; Rehabilitation Center
Performance: Broadway Pit Musician; Choir Director; Church Musician; Conductor; Military Bands; Orchestral Musician; Jazz Musician
Record Industry: Artist Manager; Retail Sales Manager; Music Attorney
Music Education: Classroom Music Teacher; Studio Teacher; Research; Music Libraries
Writing/Composition: Arranger; Commercial Songwriter; Copyist/Engraver; Film Score Composer; Jingle Composer; Music Journalist; Television Composer; Video Game Composer
I'm very grateful for this program at Carroll. The instructors truly put the needs of the students first, answering questions and taking the time to talk with us about our future goals. Because of this program, I feel more than ready to pursue a career in music.
Faculty
Carroll's faculty are scholars, researchers and distinguished leaders, selected based on their industry experience, academic excellence and passion for teaching. They possess a wealth of skills and knowledge to share with you throughout your pursuit of a Music degree.