Physical Sciences, Geology Concentration, A.S.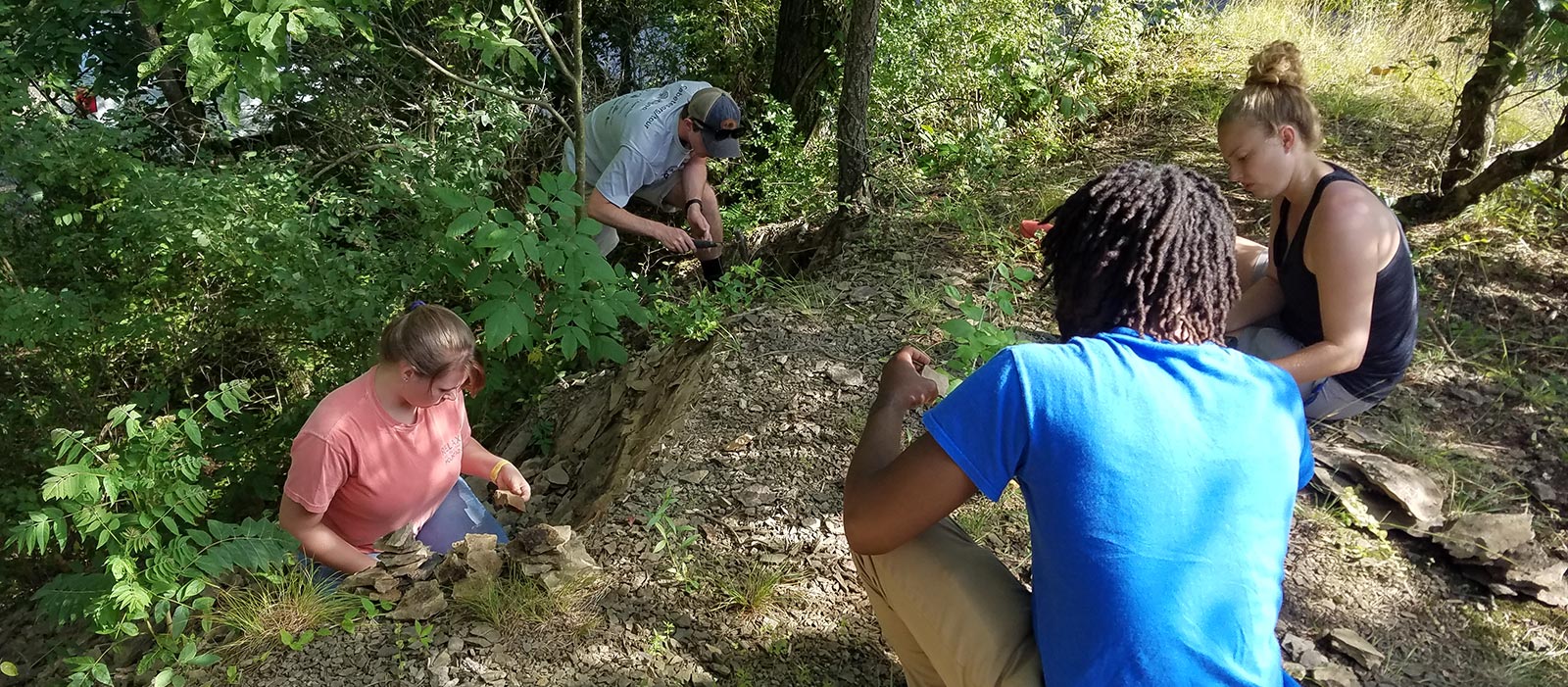 At a Glance
Carroll's Associate degree in Geology Concentration program offers a solid transfer pathway that can lead to a geoscience-related career at private firms, non-profit organizations, academic institutions or government agencies.
Program Length
Two years, or four 15-credit terms
Helpful Resources
About the Program
Are you interested in what the Earth is made of and the processes that affect it over time? Are you concerned with the state of our natural resources? Are you a logical thinker, good at solving problems and enjoy being outdoors? Then an Associate degree in Geology Concentration may be for you!
Geologists study the composition and behavior of minerals, rocks and geological formations, the Earth's magnetic field, landscape formation and modification, groundwater, the ocean floor, fossils, natural resources, volcanoes and much more. They create geologic maps, collect rock and water samples in the field, analyze sediment and fossil data in laboratories, prepare scientific reports and design graphical representations of geologic data in a variety of settings.
Why choose Carroll for your AS in Physical Science with Geology Concentration?
Get access to Maryland's many geologic landscapes through numerous on-site learning opportunities.
Immerse yourself in field experiences and research starting from your first semester.
Smoothly transfer to geoscience programs at many Maryland universities.
Small class sizes offer more personalized attention from instructors.
Geology Showcase
Take a closer look at some Geology program highlights and student achievements.
STEM Scholars
Carroll's STEM Scholars honors program is designed for motivated high school and college students who want to pursue opportunities in Science, Technology, Engineering or Mathematics and transfer to a 4-year institution after completion of their Associate degree at Carroll Community College. Apply to become a STEM Scholar.
Advisory Board
Our program is continuously reviewed by an advisory board of industry experts and representatives from local 4-year institutions, ensuring the program meets all current and projected skill and knowledge requirements. Our advisory board members also provide degree program students with networking and internship opportunities. You can visit our Advisory Boards page to see the list of Science Advisory Board members, as well as advisory board members for our other programs.
Curriculum
Loading...
Transfers & Careers
Discover Your Passion
Find out what your interests are and how they relate to the world of work.
Transfer
Carroll's 2-year Geology degree program provides students with the fundamental background in the earth sciences, mathematics and physical sciences necessary for transfer into a 4-year institution's general Geology or Earth Science program.
Because 4-year institutions vary in their requirements, Carroll students are expected to check with ARTSYS and their chosen transfer institution, and to consult an academic advisor at Carroll to select courses that will transfer toward their Bachelor's degree.
Carroll has transfer agreements with virtually every public college and university in Maryland, as well as many other schools throughout the state and across the country.
Learn more about transferring your courses to a different institution or explore Transfer Agreements by Area of Study.
Career
Many career paths are available to geologists, who can expect to earn a generous salary when employed. With the declining conditions of our planet, they are more crucial than ever to help keep it sustained. That is why there is 10% predicted job growth for geologists through 2024, according to the U.S. Bureau of Labor Statistics.
Broad fields of employment:
Environmental investigations and applications
Hydrologic planning and management
Earth materials and energy exploration
Urban and regional planning
Natural resources and hazards management
Paleontological and archaeological investigations
Academia
Wide range of employers:
Federal, State, and local government agencies and laboratories
Domestic and international private industries
National and State parks
Faculty
Carroll's faculty are scholars, researchers and distinguished leaders, selected based on their industry experience, academic excellence and passion for teaching. They possess a wealth of skills and knowledge to share with you throughout your pursuit of a Geology degree.