Physical Sciences, Physics Concentration, A.S.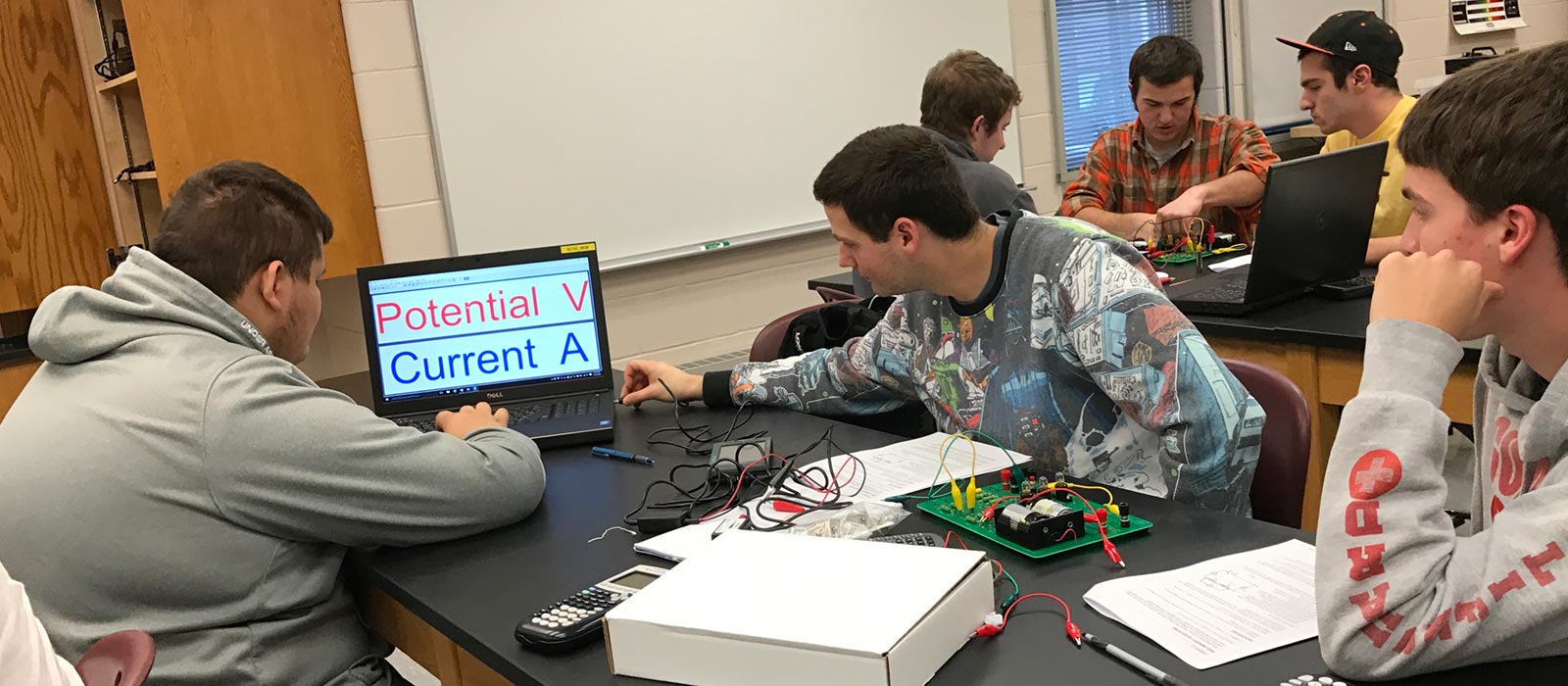 At a Glance
Our Associate degree in Physics Concentration program provides students with a strong science and mathematics foundation, seamless transfer through our agreements with 4-year colleges & universities, and internships and research programs in the Physics field.
Program Length
Two Years, or four 15-credit terms
Helpful Resources
About the Program
Get started on the path towards a rewarding future in the Physics field with Carroll's Associate degree in Physics Concentration program.
Physics explores every facet of the physical world, from classical physics to modern physics and everything in between. Physicists push the boundaries of what humans can do, from rollercoasters to space flight. They observe natural phenomena and develop theories to help us understand the workings of the world. Physicists also apply their knowledge to the development of innovative electronic devices.
Why choose Carroll for your AS in Physical Science with Physics Concentration?
Smoothly transfer from our Physics track to numerous Maryland universities.
Immerse yourself in hands-on lab experiences and research starting from your first semester.
Enhance your studies using our state-of-the-art scientific apparatus.
Capstone projects help you improve your scientific research, writing and presentation skills.
Small class sizes offer more personalized attention from instructors.
Physics Showcase
Take a closer look at some Physics program highlights and student achievements.
STEM Scholars
Carroll's STEM Scholars honors program is designed for motivated high school and college students who want to pursue opportunities in Science, Technology, Engineering or Mathematics and transfer to a 4-year institution after completion of their Associate degree at Carroll Community College. Apply to become a STEM Scholar.
Advisory Board
Our program is continuously reviewed by an advisory board of industry experts and representatives from local 4-year institutions, ensuring the program meets all current and projected skill and knowledge requirements. Our advisory board members also provide degree program students with networking and internship opportunities. You can visit our Advisory Boards page to see the list of Science Advisory Board members, as well as advisory board members for our other programs.
Curriculum
Loading...
Transfers & Careers
Discover Your Passion
Find out what your interests are and how they relate to the world of work.
Transfer
Carroll's 2-year Physics degree program provides students with the fundamental background necessary for transfer into a 4-year institution's Physics program.
Because 4-year institutions vary in their requirements, Carroll students are expected to check with their chosen transfer institution and consult an academic advisor at Carroll.
Carroll has transfer agreements with virtually every public college and university in Maryland, as well as many other schools throughout the state and across the country.
Learn more about transferring your courses to a different institution or explore Transfer Agreements by Area of Study.
Career
Physics graduates are highly sought out by employers because of their unique problem-solving and reasoning skills and excellent numeracy skills. They find jobs in diverse industries, including space exploration, astronomy, science research and education, as well as in healthcare as radiation specialists and medical physicists.
Starting annual salary of a physicist with a B.S. degree ranges from $45,000 to $65,000. Job growth for the field is expected to be 7% through 2024, according to a U.S. Bureau of Labor Statistics report. To read more about physics job prospects, please visit the American Physical Society website.
Faculty
Carroll's faculty are scholars, researchers and distinguished leaders, selected based on their industry experience, academic excellence and passion for teaching. They possess a wealth of skills and knowledge to share with you throughout your pursuit of a Physics degree.
News