Chemical/Biomedical Engineering Concentration, A.S.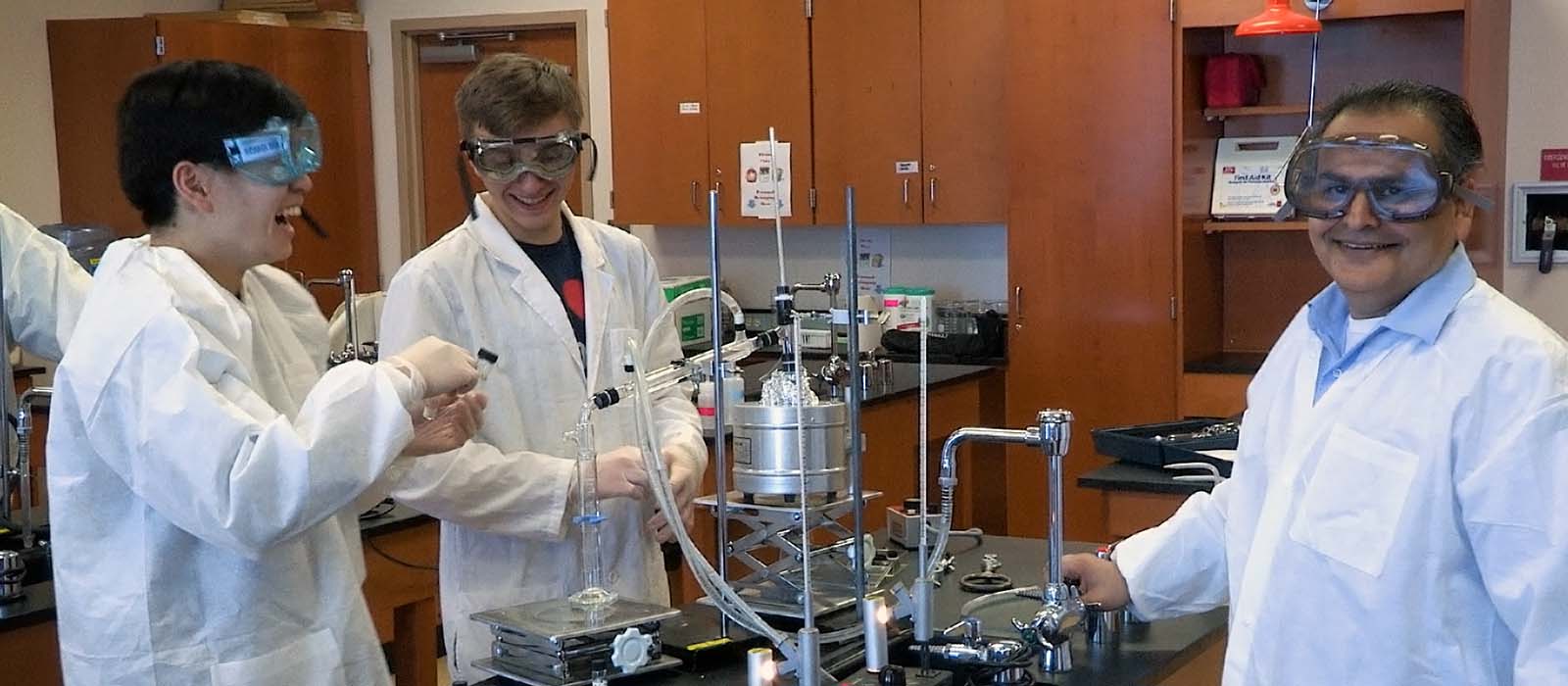 At a Glance
Carroll's A.S. in Chemical/Biomedical Engineering degree program gives students the opportunity to complete gateway courses as well as lower-level Engineering classes as they prepare for transfer to a 4-year college or university.
Program Length:
Two years, or four 15-credit terms
Helpful Resources
About the Program
Synthesize a successful career by earning your A.S. in Chemical/Biomedical Engineering at Carroll!
Chemical engineers design methods to manufacture materials, fuel, pharmaceuticals, foods, chemicals and more as well as develop new products. They use chemistry, biology, physics and mathematics to solve many of the problems we face today in health care, the environment and our society.
Biomedical engineers design and build equipment and systems to improve medical care. Biomedical Engineering is also a major that can lead to medical school, requiring an understanding of biology, chemistry, physics, physiology, programming and mechanics.
Why Carroll for an A.S. in Chemical/Biomedical Engineering:
Graduates are prepared for junior-level work at a transfer institution.
Alternative path to a B.S. in Engineering is more accessible (cost, location, schedule).
Small classes allow for more personalized attention from professors.
Program accredited through the Maryland Higher Education Commission (MHEC).
STEM Scholars
Carroll's STEM Scholars honors program is designed for motivated high school and college students who want to pursue opportunities in Science, Technology, Engineering or Mathematics and transfer to a 4-year institution after completion of their Associate degree at Carroll Community College. Apply to become a STEM Scholar.
Advisory Board
Our curriculum is designed and continuously reviewed by an advisory board of industry experts and business leaders, ensuring the program meets all current skill and knowledge requirements. You can visit our Advisory Boards page to see the list of Engineering Advisory Board members, as well as advisory board members for our other programs.
Curriculum
Loading...
Transfers & Careers
Discover Your Passion
Find out what your interests are and how they relate to the world of work.
Transfer
Our Associate degree in Chemical/Biomedical Engineering program works closely with nearby colleges and universities to offer students a clear path for successful transfer into a Bachelor's program. Carroll graduates have transferred to University of Maryland Baltimore County, University of Maryland College Park, Johns Hopkins University, Stevenson University, Morgan State University and many others across the country.
Students are urged to speak with an academic advisor prior to scheduling their first term courses at Carroll to ensure credits will transfer to their chosen 4-year school.
Learn more about transferring your courses to a different institution or explore Transfer Agreements by Area of Study.
Career
Chemical engineers work in a wide variety of industries, including oil and gas, energy, medical, plastics, environmental, food production, household products and many more.
Employers include research labs at NASA, Hershey, Proctor & Gamble, Chevron, Merk and many other companies.
Many biomedical engineers work in hospitals or do research at universities, or are employed by medical technology companies like Medtronic, Stryker and KLS Martin.
According to the U.S. Bureau of Labor Statistics, salaries for graduates with a B.S. degree in Chemical Engineering start around $60,000 and graduates with a B.S. degree in Biomedical Engineering start around $50,000.
When I first started at Carroll, I did not know enough about myself and about my options to make a decision about which type of engineering I wanted to pursue… At Carroll, I've really been able to find out who I am and feel like I've really matured as a person. Carroll has allowed me to explore my interests while also moving forward in my education
Faculty
Carroll's faculty are scholars, researchers and distinguished leaders, selected based on their industry experience, academic excellence and passion for teaching. They possess a wealth of skills and knowledge to share with you throughout your pursuit of an Engineering degree.