Mechanical/Civil Engineering Concentration, A.S.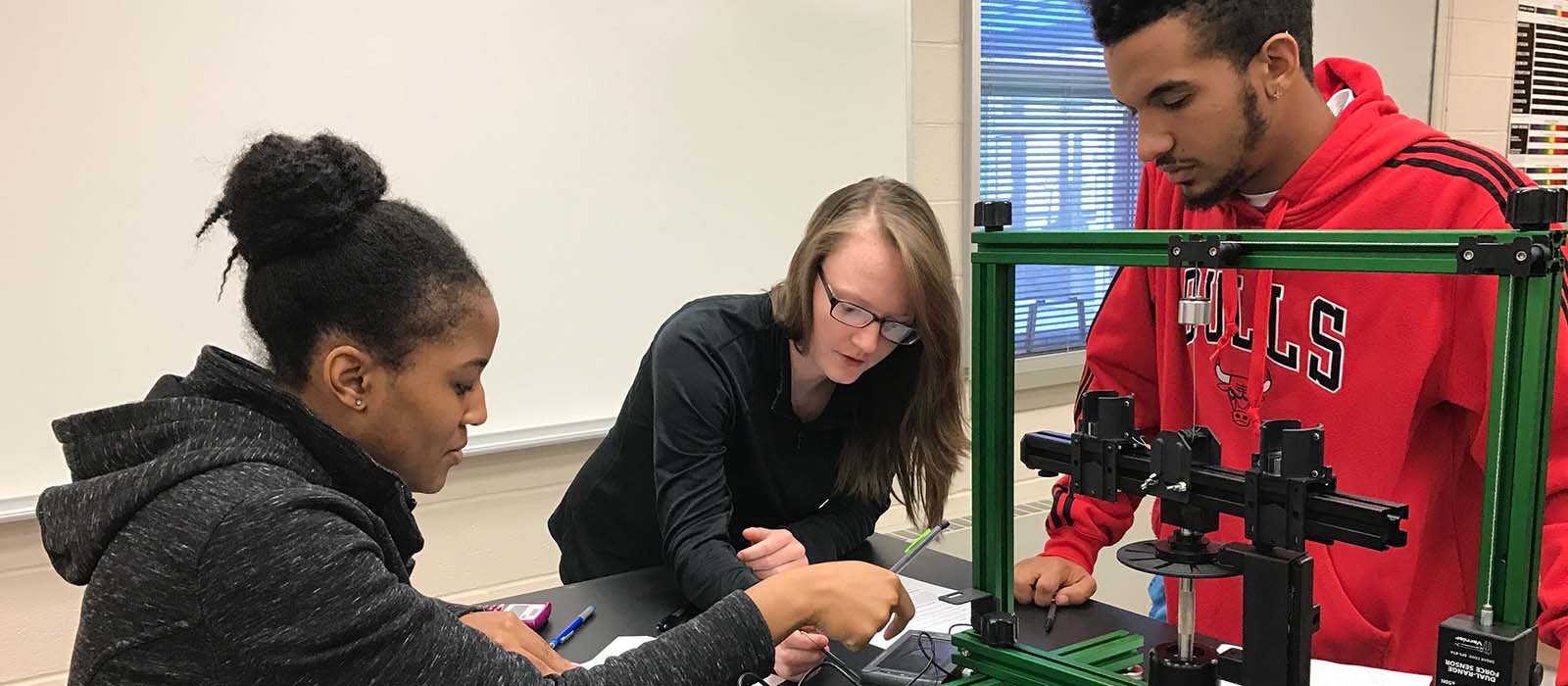 At a Glance
Carroll's A.S. in Mechanical/Civil Engineering degree program gives students the opportunity to complete gateway courses as well as lower-level Engineering classes while they prepare for transfer to a 4-year college or university.
Program Length:
Two years, or four 15-credit terms
Helpful Resources
About the Program
Get in gear for an engineering career by enrolling in the A.S. in Mechanical/Civil Engineering degree program at Carroll!
Civil Engineers design, construct, operate, maintain and improve infrastructure. Their skills are used on bridges, roads, buildings, dams, water systems, airports and much more to ensure safety and efficient designs. Their work helps to improve travel, reduce flooding and protect people every day.
Mechanical Engineering is a broad field that includes designing and building fuel-efficient engines, reusable rockets, robots, turbines and nearly every kind of mechanical device we use and encounter in our lives every day. Their work helps to improve our safety and comfort, reduce our energy usage and increase the effectiveness of the many things we use.
Why Carroll for an A.S. in Mechanical/Civil Engineering:
Graduates are prepared for junior-level work at a transfer institution.
Alternative path to a B.S. in Engineering is more accessible (cost, location, schedule).
Small classes allow for more personalized attention from professors.
Program accredited through the Maryland Higher Education Commission (MHEC).
STEM Scholars
Carroll's STEM Scholars honors program is designed for motivated high school and college students who want to pursue opportunities in Science, Technology, Engineering or Mathematics and transfer to a 4-year institution after completion of their Associate degree at Carroll Community College. Apply to become a STEM Scholar.
Advisory Board
Our curriculum is designed and continuously reviewed by an advisory board of industry experts and business leaders, ensuring the program meets all current skill and knowledge requirements. You can visit our Advisory Boards page to see the list of Engineering Advisory Board members, as well as advisory board members for our other programs.
Curriculum
Loading...
Transfers & Careers
Discover Your Passion
Find out what your interests are and how they relate to the world of work.
Transfer
Carroll's A.S. in Mechanical/Civil Engineering program works closely with University of Maryland College Park, McDaniel College and many other nearby colleges and universities to offer students a clear path for successful transfer into a Bachelor's program.
Students are urged to speak with an academic advisor prior to scheduling their first term courses at Carroll to ensure credits will transfer to their chosen 4-year school.
Learn more about transferring your courses to a different institution or explore Transfer Agreements by Area of Study.
Career
The College is developing multiple partnerships with local businesses in Carroll and Baltimore counties to provide valuable internship opportunities for students before they transfer, helping them build their professional résumés and network with potential employers while attending Carroll.
According to the U.S. Bureau of Labor Statistics, annual salaries for engineers graduating with a B.S. degree start around $55,000.
Initially, I chose Carroll in part because it is affordable. There is no doubt I am also graduating with a high-quality, superb education that parallels the quality of a degree from any other institution
Faculty
Carroll's faculty are scholars, researchers and distinguished leaders, selected based on their industry experience, academic excellence and passion for teaching. They possess a wealth of skills and knowledge to share with you throughout your pursuit of an Engineering degree.
News